Meetings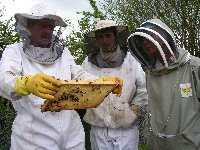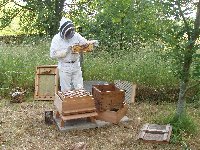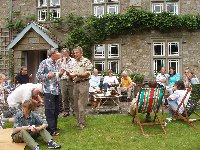 If you require any further details or have any ideas for future meetings, please contact our events officer.
Winter Programme 2012/2013
We meet once a month; from October to April on a Tuesday evening at 7:30pm in the Abbot Hall Social Centre on Dowker Lane in Kendal. Meetings usually have a beekeeping theme and are followed by tea and biscuits with plenty of time to chat. Non-members are welcome to come along; you may want to contact one of us first so we can be sure to be there to welcome you. There is ample free parking, after 6pm, in Peppercorn Lane car park which is just off Kirkland (map). If you exit the car park towards the park by crossing the footbridge over the Blind Beck, the Abbot Hall Centre is the building immediately on your left.
Oct 14th 2012

We are invited to support apple day, at Beetham Nurseries, with information about bees and our Association. Please contact Julia if you are prepared to help on the day.

Oct 16th 2012

This is our annual honey show when members bring along their hive products to be judged. Entries accepted from 18:30. Show schedule. During the judging there will be a video to watch. Please enter as many classes as you can as the show is only as good as the number of entries.

Nov 20th 2012

Emily Adams, a PhD student from Lancaster University, will tell us about her research into beekeepers, bee food and its digestion.

Dec 18th 2012

Tonight is a beekeeping quiz and a Jacob Join. We will eat first, starting at 7.30-7.45; hopefully our brains will still be in gear when it comes to the quiz.

There is a cooker in the Abbot Hall centre so if anyone wants to bring anything hot this can be used. There is also a good selection of crockery and cutlery so doesn't necessarily have to be finger food. It would be good to have a selection of savory & sweet.

Jan 15th 2013

This is our annual general meeting when proposals for any changes to our organisation are decided. It is your chance as members to have your say. Please try and attend. After the meeting there will be a Jacobs join supper.

Feb 19th 2013

An illustrated talk by Andrew Walter from Cumbria Wildlife Trust on the Nature Reserves under his management.

Mar 2nd 2013

Annual dinner at Helsington & Brigsteer Village Hall GR 479898. 7:00 for 7:30pm. Please send your menu choices and cheque to Julia by 22nd February. It was greatly enjoyed last year.

Mar 19th 2013

A talk by Jim Bispham on The Pacific Crest Trail, a 2,650 mile walk from Canada to Mexico that Jim completed in 2008.

Apr 13th 2013

Damson Day in the Lyth Valley, GR 459886. This regular event in our calendar is a good opportunity to publicise our existence. Kendal beekeepers have a display there complete with an observation hive which always creates a lot of interest. Unfortunately, it always coincides with the spring convention at Harper Adams University College but if you are not going to the convention, please come along and lend your support and help to run the stand for K&SWBKA.

Apr 16th 2013

An illustrated talk by Julia. In addition, Anne & Richard Kenyon will be present with their road show. As most of you know they do bring a big collection of equipment but if there is anything in particular you know you want or would be interested to see, it might be a good idea to contact them before the night (see sponsors page).
Summer Programme 2012
From May until September we gather at different apiaries whatever the weather. Meetings have a topic related to beekeeping but most importantly there is always a leisurely Jacob's Join tea. We have protective beekeeping clothing available to lend; if possible contact one of us first so that we can make sure we have the right equipment available to fit you. Coming to an apiary is a good way to gain the opportunity of seeing inside a beehive.
Unless otherwise stated, all apiary visits start at 2:30pm.



May 13th 2012

Our first apairy visit for 2012 is on Sunday 13th May beginning at 2.30. We have been invited to Alan Tetts at Field Maple, Burton Road, Holme, LA6 1QS. We will look into Alan's hives and afterwards have a chat about what was seen and hear about other members experiences for the start of the new season.

Jun 23rd 2012

Pat Malone has kindly invited us to her home for the June Meeting. Pat lives at Rook Howe Kentmere, GR 459045. Parking is very limited so it would be helpful if anyone can car share. In previous years we have met at Staveley Wood Yard to arrange transport.

Jul 8th 2012

Today we are off to Brigsteer, to visit Julia and Martin and their bees. Please park at Helsington church, where it is a short walk across a field. Wellies are a good idea here, just in case the grass is wet! If we assemble at the church about 14:15, an escort will take you down to the apiary.

If the weather is reasonable a friend is going to set a moth trap up on the bee reserve on Saturday night so we can bring it up to the house and she will come back at 2.30 and open it up for us all to see the moths.

If you use anything other than Apiguard and Oxalic Acid for hive treatments please would you bring what you use to the meeting - if it rains and we have to be inside we will review all the treatments that are available - the choice seems to be ever increasing - we are reaching the time of year when we begin to think about Autumn treatments.

Jul 14th/15th 2012

Lakeland Flower and Craft Show (formerly the Lakeland Rose Show).

Aug 18th 2012

We are invited by Lancaster BKA to their BBQ hosted by Linda & Richard Wilson at Overton.

Sep 15th 2012

Trish Adcock's home. The Rock, Nook Lane, Underbarrow. Winter preparations, disease and hive inspection with Stewart Beattie.

There is parking for about 5 cars in the car park by the cottage. People can also park down by the church and walk 50 yards up the unmade road up to the cottage.

Sep 22th 2012

Cream teas will be served at Brigsteer village hall between 2pm to 4:30pm. Money raised will go to the Cumbria Wildlife Trust to celebrate their 50th birthday.(Details)

Oct 14th 2012

We are invited to support apple day, at Beetham Nurseries, with information about bees and our Association. Please contact Julia if you are prepared to help on the day.